Even though the Home Gym inSPORTline Profigym C40 is a home machine, it has the same features as professional machines. It features various stations that offer a variety of exercise options, making the machine perfect for a full-body workout. By releasing the locking pin and moving the exercise arms to a different setting, you can switch from a chest press to a pec deck in seconds. However, it's the pulleys that make the machine so versatile. You can attach pretty much any extension to them and further expand your exercise options.
This home gym comes with a removable bicep curl preacher pad and leg extension/curl station. All the stations are connected to a 67.5kg weight stack system that consists of fifteen 4.5kg weight stacks.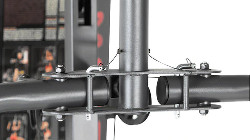 Dual-purpose exercise arms
Thanks to a sophisticated locking system, you can adjust the exercise to two different positions, switching from a chest press to a pec deck in seconds. All you have to do is release the locking pin. This machine allows you to shape your pecs in two different ways.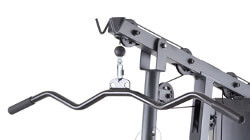 Upper pulley
Focus on your core and strengthen your abs through lat pulldowns. Keep increasing the weight until your abs are rock hard.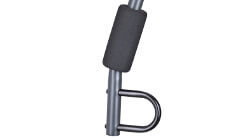 Comfortable forearm padding
Foam pads on the exercise arms provide comfort when they're in the peck deck position.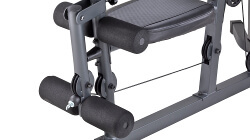 Leg extension/curl station
The leg extension/curl station with soft foam roller pads allows you to exercise your legs.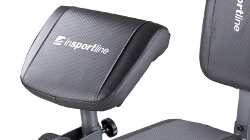 Removable bicep curl preacher pad
The removable bicep curl preacher pad makes this machine extra special.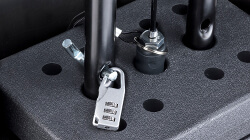 Safety lock
Safety lock secures the weight stack system in position, allowing for a safe and comfortable workout.

Technical description:
Multi-purpose home gym
Various stations for full body workout
Adjustable exercise arms (chest press/butterfly)
Adjustable weight stack system
Safety lock
Compatible with single-handed and leg/wrist strap extensions (not included)
High-quality steel frame
Weight stacks: 67.5 kg (15 x 4.5 kg) / 150 lbs.
Dimensions: L 173 cm x W 91 cm x H 200 cm
Load capacity: 136 kg (300 lbs.)
Category: H (EN 957) – home use
Training stations:
Chest press
Pec deck
Tricep pushdown
Lat pulldown
Seated cable rows
Standing cable rows
Leg extension
Leg curl
Bicep curl preacher pad
Lunges with weights
Adduction/abduction
Front raises